Last weekend, I spent a few days at a very magical place called Yogaville in Buckingham, VA with an amazing group of yogis and yoga therapists to brainstorm about the future of yoga and yoga therapy in healthcare. This was the perfect, peaceful, energized backdrop for our work.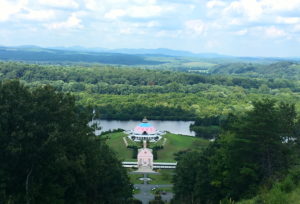 Each yogi has a unique professional background and offered tremendous passion and  incredible experience in the burgeoning field of yoga therapy. Included in this group was a pediatrician from UVA, Michael Lee, MA, founder of Phoenix Rising School of Yoga Therapy, Mala Cunningham, PhD, founder of Cardiac Medical Yoga, Staffan Elgelid, PT,GCFT, PhD, Associate Professor of PT and Director of Physical Therapy and Wellness at Nazareth College, and little ol' me.
The health benefits of yoga and more specifically yoga therapy are well established and increasingly being recognized, but not very well known. So, the challenge is how to integrate this complementary therapy into mainstream healthcare – clinics, doctors offices, hospitals and rehab centers. Integrated health centers have been popping up throughout the country, and reporting incredible results for their patients, such as at the MD Anderson Cancer Center.  The University of Virginia is teaching the theory and practice of yoga in the Contemplative Science Center, which also offers free classes to the students and faculty. UVA also has an Integrated Medicine Clinic.  Progress is being made in the field of integrative health centers, but this is far from mainstream.
What about yoga therapy in hospitals? I initially thought that cultivating mindfulness and compassion in the healthcare providers would be enough. While this is critical to achieve the best outcomes for the patients, the providers already have many responsibilities. so, in comes the yoga therapist who is there for one reason only – to aid in stress reduction and pain management via a focus on the physical , emotional and spiritual needs of the patient. For example, at Barnabas, the integrated cardiac wellness program, involves a holistic approach BEFORE and After cardiac surgery.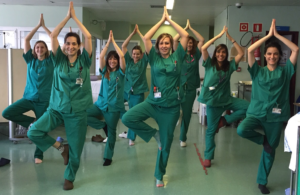 The challenge with any relatively new treatment method, is education and unfortunately reimbursement. The education piece is being addressed. "Wellness" is being introduced into the school curriculum for doctors and nurses. Also, in the Era of Accountable Care, wellness is becoming a core competency for hospitals. As hospitals explore different ways to address "wellness", the hope is that they will incorporate more yoga therapists in their wellness strategies.
These are exciting times!
Namaste