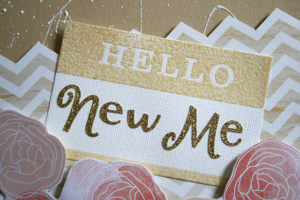 I know what you're thinking… more of that New Year, New Me bullshit. This year, however, brings a whole new meaning to Happy New Year for me. I officially retired as a cardiologist on January 1st!  No more pagers!… No more rude awakenings in the middle of the night…No more hospital administration telling me how to talk to patients! So, this New Year really is all about a New Me – the evolution of which I am excited to  witness and share with my readers.
Many have asked "What will you do now"? seemingly expecting me to practice somewhere else or in some similar capacity, surprised to hear my answer "I don't know". But, honestly, why should I know? Medicine is all I have known for a long time. I have spent my entire adult life in the study and practice of medicine & cardiology. It was a wonderful career and I am honored to have been a part of it. However, I know that there are many paths to health & wellness and IAM ready to do something different.
The truth is I don't have any immediate career plans. I do have a lot of dreams and ideas and things that I am passionate about.  I will forever be a doctor and will bring the skills and knowledge that I have built up over the years with me to whatever I do. But I want to take time ( a luxury I never had before) and allow the mystery to unfold. Because it is when we are in sync with the Universe and its plans for us, that we find Joy and Peace.
Here are a  few of my ideas for the new me:
Completely immerse myself in the practice of Yoga. This will bring the clarity and direction that I need to move forward
Shine in the presence of loving family and friends
Spend precious time with my dog (my baby), Rocky in the final chapter(s) of his life
Try new things — maybe learn a new language, relearn to play the piano, Acroyoga, the sky is the limit!
Hike Utah's mighty National Parks
Travel often
Volunteer where I am needed
Blog about my adventures, health, nutrition, & of course yoga/Maybe write a book
Teach
Open a business
Laugh heartily
Love deeply
Namaste
Dr Millie Lee