Monday, August 1, 2016 – New day, New week, New month, New moon

I wake up each day with the realization that each morning provides fresh opportunities and new beginnings, regardless of what happened yesterday. But there's something particularly exciting for me when that new day is the beginning of a new week, a new month, a new year or a new moon.
I'm a hopeless Believer or many may say, Dreamer, or perhaps  even Delusional.  Regardless, I wake up every day as if yesterday never happened and am excited about the opportunities ahead. I am given another day, another opportunity to be better at whatever I do — a better doctor, better runner, better daughter, better friend.  That's a gift we are all given when we wake up.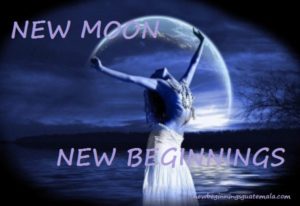 The New Moon, technically is on Tuesday, August 2nd. The day before the New Moon is a time of reflection and preparation.
When the moon is new, the two lights in the sky, the sun and moon, are aligned in the same Zodiac sign. In astrological terms, this is a time charged with great energy that can lead to new and exciting possibilities in our lives. 
A New Moon is a symbolic point of attention, and a symbolic portal for new beginnings. New Moons are a great time to set intentions for things you'd like to create, develop, cultivate, or make manifest.
We can prepare for the New Moon by making sure we are clear about our intentions.
So why not start this day, this week, this month and this Lunar cycle with Hope. Set your good intentions forward and be your best Self.
Peace, Love, Health & Happiness
Namaste