What an extraordinary trip to Peru! The energy from the Andes mountains and the Andean people is palpable everywhere you go from Cuzco to Machu Picchu to the Sacred Valley.  The indigenous Incan culture lives on in the Quechua (pronounced ke-chwa) people, particularly noted in their relationship with Nature – earth, water, sun and all living creatures. The Incans knew and the Andean people continue to honor and appreciate the health benefits derived from Mother Nature, treating successfully everything from altitude sickness to abdominal pain with herbs and plants.
Travel is no excuse not to stay fit and healthy. No matter where you are, you can always practice yoga, walk, hike or run. Hiking Machu Picchu was breathtaking – the exertion and the views took my breath away.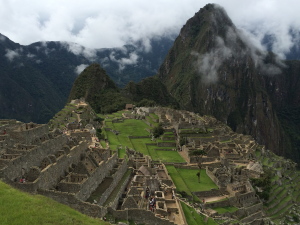 In the Sacred Valley, we stayed at a lovely yoga retreat called Willka T'ika surrounded by the magnificent Andes mountains. Willka T'ika is a serene place with an incredible staff who carry on the Quechan traditions with their organic, locally grown meals and healing herbal teas. There is a spectacular Chakra garden with all of the seven gardens beautifully and carefully designed; each garden corresponding to a particular chakra with its corresponding color, energy, healing plants & flowers.
All in all, It was a beautiful experience. Now off to an entirely different ecosystem — the Galapagos. Very excited!
Jai ma