We continue this month, Heart Month, to learn more about the heart and heart disease.
So how do you know if you or a loved one have heart disease? First of all, what is heart disease? Before we discuss what can go wrong, Let's begin with a short lesson on the anatomy and function of a normal heart.
Human Heart Anatomy
The heart is a small, beautiful and powerful organ. It is about the size of a large fist and weighs between 10-20 ounces in men and 8-10 ounces in women.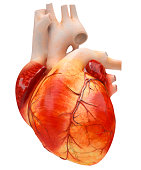 Heart Function and what can go wrong 
We cardiologists often liken the heart to a house with its structure, plumbing, and electricity. The heart is a hard working muscular pump responsible for delivering oxygenated blood to all the bodies tissues and organs, including itself (via the coronary arteries). If the pump (structure) fails to work efficiently, heart failure can result. If the arteries get clogged or blocked (plumbing), Coronary Artery Disease is the result. Irregular heartbeat or arrhythmias is the result of an electrical problem.
Coronary Artery Disease (CAD)
CAD is what most people think of when they hear the term heart disease and it IS the most common form of heart disease and the leading cause of death in our country. Basically, it is the build-up of plaque in the heart (coronary) arteries which lead to symptoms of ANGINA or HEART ATTACK (myocardial infarction).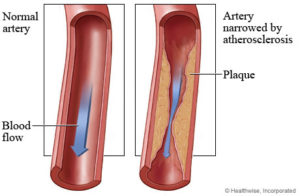 Angina occurs when the heart muscle doesn't get enough oxygen-rich blood. It generally occurs when the demand on the heart is increased such as with exercise or exertion and resolves with rest (decreased demand). A heart attack is similar pain that persists. It can often be preceded by angina, but not always.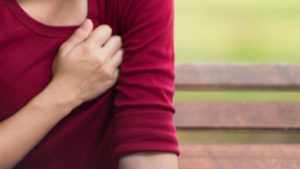 COMMON SYMPTOMS OF CAD
Chest pain with or without exertion; dull, pressure, sharp or burning like indigestion
Pain in Arms, Neck, Jaw, Back or Abdomen
Nausea and vomiting
Shortness of Breath
Extreme Fatigue
Sudden, unexplained sweatiness
Heart Failure
This is a condition in which the heart does not pump normally, either from a weakened pump or a restricted heart muscle. The condition of a weakened heart muscle is referred to as a Cardiomyopathy. When the heart is not able to pump efficiently, blood can back up into the lungs and peripheral veins. As the pressure in the blood vessels of the lungs increase, fluid is pushed into the air spaces, leading to congestion in the lungs, or pulmonary edema. Similarly, fluid can be pushed out of the peripheral veins, leading to swelling or EDEMA of the legs, arms, or abdomen.
COMMON SYMPTOMS OF HEART FAILURE
Shortness of Breath with or without activity
Shortness of Breath when laying down
Fatigue
Swelling, in legs, arms, and abdomen
Arrhythmias
An arrhythmia is a problem with the rate or rhythm of the heartbeat. During an arrhythmia, the heart can beat too fast, too slow, or with an irregular rhythm, such as Atrial Fibrillation.

COMMON SYMPTOMS OF ARRHYTHMIAS
Palpitations
Dizziness, Lightheadedness, Loss of Consciousness
Chest pain
Shortness of Breath
If you or a loved one have any of the symptoms I've discussed here, please see a doctor as soon as possible. I recommend seeing a general doctor first and see if a referral to a specialist or further testing is required.
By Dr. Millie Lee