The Challenge….complete 21 yoga classes in the month of October. Sounds simple enough, right?
The Cambridge Dictionary definition of Challenge is — something needing great mental or physical effort in order to be done successfully, or the situation of facing this kind of effort. This means different things to different people.
Again and again, I find that what I do on my mat is often a metaphor for what I do or how I am being off the mat.
THIS IS YOGA
I took on this challenge because I felt my soul calling me back to the yoga studio, a sort of second home filled with loving family. While stepping onto my mat at the studio brings me tremendous joy and peace, the days and even moments getting there were frankly, for me… challenging. My days at work as a cardiologist are challenging in and of themselves, add to that not knowing when the day ends and then traffic in the last moment rush to make a class, spells out …
STRESS
Then last weekend I was on call and had a "plan" to get in at least one class on the weekend. Then, a  patient having a heart attack is flown in via helicopter and this changes everything.. my plans, my perspective, my definition of challenge. The Challenge … being the best doctor I can be, trying to save a life, fighting (loudly) for everything possible to be done, and accepting the outcomes without
SELF JUDGEMENT
  The Challenge … finding peace in whatever happens each day, because this does take "mental effort". Knowing that you did your best and that your best is always enough.
THIS IS YOGA…Providing us with the tools needed for navigating the challenging course that is life.
In our personal lives, we all have our challenges. Some challenges are clearly less daunting than others but nevertheless, all are real for us at the time, and often result in physiological stress. For me, most of the time, my challenges are small and insignificant and self-imposed… getting up early to run, running a half marathon, getting to the yoga studio, meditating regularly, and being a good doctor. Nothing in comparison to my sister's daily challenges of raising a family, running a company and dealing with her own health problems. Yet she does it all with grace and determination.
So, the question is not what are your challenges, but how do you respond to them.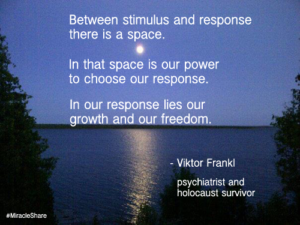 The Challenge is …. to sit quietly and listen to the wisdom that can only come from within.
This past weekend, I had the exact opposite experience of my last weekend. I went to a yoga workshop led by Rolf Gates, globally recognized yoga teacher and author. He talked about how we practice yoga on and off the mat … with an open heart and attention to the present moment. It is these tools that can help us get through the challenging moments in our lives.
The Challenge is… Allowing. Allowing life to unfold as it will.
The Challenge is… Accepting. Accepting Life as it is in the moment, being present in it, and being your best You.
The Challenge is … Not what you do, But How you do it.
And yes, I did complete the 21 days! On to the next challenge.
Namaste